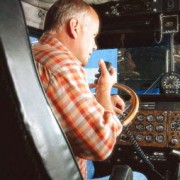 Truck drivers and dispatchers rely heavily on one another for a safe, efficient and profitable route. With rising diesel costs and stringent HOS (Hours-of-Service) rules, efficiently managing time and other resources for truckers and dispatchers is crucial for companies to stay profitable. Here are six action items for improving trucker-dispatcher teamwork:
1. Communicate frequently to make the most out of pick-up and delivery times. Every truck driver and dispatcher understands the importance of pick-up and delivery time, especially in light of new HOS regulations. When properly planned, a truck driver can use the time spent at loading docks as the mandatory rest break without losing out on possible driving time. Truck drivers and dispatchers can work together to make the most out of pick-up and delivery times by taking advantage of early arrivals. If a driver arrives at the loading dock early, he or she can communicate with the dispatcher to try to move up the pick up or delivery.
2. Make an effort to help the truck driver arrive at loading and unloading appointments early. If a dispatcher can map more efficient routes, help the driver avoid heavy traffic or use fuel more efficiently (and stop less often for gas), then the driver can potentially arrive at loading and unloading appointments ahead of schedule. This can put the driver hours or even a full day ahead of schedule, allowing more time for rest, personal errands or mileage toward the next route. Arriving ahead of schedule can also mean less time that both the dispatcher and driver need to spend working.
3. Keep accurate records to improve maintenance management. Documenting mileage, average speed and time spent idling can help a driver and fleet manager better manage preventative maintenance. Keeping the truck in good condition can minimize the need for downtime for repairs. Accurate record keeping can also help manage fuel more efficiently and increase MPG.
4. Invest in fleet-management technology. Almost all fleet managers, drivers and dispatchers know the importance of managing an entire fleet holistically. Reliable fleet management software can help dispatchers and drivers get a higher-level view of fuel costs as well as HOS- and FMCSA-compliance regulations. Having software to help manage these important aspects of trucking operations can save time for the fleet manager, dispatcher and driver — and thereby improve profitability.
5. Share information with truckers as soon as possible before a new route. If drivers can have even a few hours to prep at home before a route, they can plan ahead to schedule stops. As a dispatcher, the earlier you can plan routes, coordinate inspections and border crossings, make any special arrangements or consolidate orders, the more effective a driver can be when it comes to time on the road. A little planning and prep work on the front end of a drive can mean a smoother route for both the driver and dispatcher.
6. Choose routes with good parking options. The amount of time spent looking for parking combined with the time spent driving out of the way to find safe parking can add up to a lot of lost productivity and wasted HOS hours. As a dispatcher, you can help truckers use their valuable drive time wisely by mapping out routes based at least in part on availability of parking. Though it's not always possible, even just a few drives with easy-to-find, pre-planned parking that's not far off the route can save a trucker time and provide more opportunity to catch up on sleep and rest.
Frequent communication, honesty and a good attitude can help foster a healthy and efficient work relationship between a driver and dispatcher. Always consider the needs of the other, be considerate and plan ahead whenever possible to work smarter.