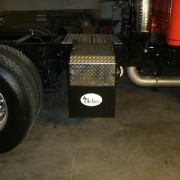 Long-duration idling has become a major issue for truckers and fleet owners, particularly due to rising gas prices. To combat the problem, idle reduction technologies are being implemented throughout the industry. But what are all of the solutions out there? And with the large up-front investment for anti-idling applications, how much will truckers actually save? Let's explore the issue at hand and evaluate potential solutions.
Truckers idle their engines to stay comfortable on the road. Idling allows drivers to keep the engine block warm, heat and cool their bunk, and operate in-cabin electrical equipment, such as an EOBR. However, long-duration idling comes with a price. It is costly for the driver, the fleet owner, and the environment.
Current Practices Not Sustainable
Some surveys show that trucks idle an average of six to eight hours a day for as many as 250 to 300 days each year. The practice consumes almost a gallon of diesel fuel per hour. At current fuel prices, long-duration idling for just one truck can cost truck owners over $6,000 per year.
Due to the negative consequences of excess idling, many states and have adopted anti-idling regulations. Approximately 22 states and dozens of counties have promulgated laws that restrict the amount of time that a vehicle can idle its main engine. These restrictions, along with the fuel cost, have caused truckers to explore various idle-reduction technologies. Although the anti-idling applications often have a high upfront cost, they can save money in the long run.
Evaluating APUs
Auxiliary power units (APUs) provide heating, cooling, and electrical power to ancillary cab appliances. There are two kinds of APUs: diesel-fueled and battery-powered. A battery-powered APU effectively removes all need for diesel fuel consumption when the truck is stopped. It is normally charged by the truck's engine during normal road operation but can also be "plugged in" at participating layover locations. The drawbacks of this solution are that battery-powered APUs cost between $7,000 and $12,000 and will draw down the engines battery quickly. However, because battery-powered APUs provide all power needs for a trucker, fuel savings will likely offset to upfront cost.
On the other hand, diesel-fueled auxiliary power systems use small diesel engines to generate power for cabin heating, cooling, and appliance operating. The unit can also be used to heat the engine block in cold weather and recharge the vehicle's battery. Because of the engine's smaller size, operating a diesel-fueled APU uses only a fraction of the fuel that would be used by idling the vehicle's primary engine. Diesel-fueled APUs cost $5,000 to $8,000 and can provide all power needs for the driver. Check out this idle reduction system buyer's guide to learn more and find the technology that is right for you.
Commit to Better Practices
Although APUs will accomplish a trucker's cab comfort issues, there are certain negatives to the technology. APUs are expensive, heavy and often require maintenance. There are many behavioral strategies that can reduce idling without a large investment. Fleet managers can adopt an idling reduction policy, like this example. These policies state that a truck's engine should be turned off when the vehicle is stopped for a certain length of time. Educating drivers and operators and giving them financial incentives to reduce idling can also help change behavior. However, when extreme weather conditions require a driver to heat, cool or operate appliances within the cabin, technology solutions must be considered.
To stay profitable, truckers and fleet managers need alternatives to idling. Truckers should weigh the costs and benefits of installing APUs and other in-cabin applications.