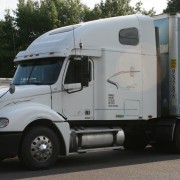 Allen and Donna Smith, founders of Truth About Trucking, LLC, will host the third annual Truck Driver Social Media Conference (TDSMC) at Harrah's Hotel and Conference Center in Kansas City, Missouri, October 11–13. According to its website, the TDSMC "was founded on the principle of uniting, recognizing and honoring our nation's truckers for their daily task of 'keeping America moving.'" 
The conference will offer a weekend of networking, information and prizes for not only truckers themselves but for fleet managers, truckers' spouses, account managers and anyone else who plays a supporting role in trucking and shipping. Attendees will have a lot to digest from social media Q&A sessions, announcement of results from the National Truck Parking Survey, interactions with other attendees and sponsors and presentations from special speakers.
Speakers
TDSMC attendees will get up-to-date industry information from five speakers giving three presentations:
Jim Bouchard, a nationally recognized motivational speaker and U.S. Martial Arts Hall of Fame inductee, will present "Think Like a Black Belt and the Power of Social Media."
Hope Rivenburg, Richard Wilson and Andy Warcaba will talk about the truck parking shortage and Jason's Law.
Jeff Barker, OTR veteran and columnist for LandLine Magazine, will discuss the driver shortage and truck driver wages in his presentation, "More Respect and Wages — How Bad Do You Want It?"
The TDSMC also welcomes specials two special guests:
Kylla Leeburg, social media coordinator for Trackers Against Trafficking and cofounder of OATH, Oklahomans Against Trafficking Humans.
Desiree Wood, founder of REAL Women in Trucking and cofounder of the Women Truckers Social Media Network.
Sign language interpretation will once again be provided by Kristy Chaney, a member of the Deaf Truckers United Facebook group.
Awards
The Jason Rivenburg Making a Difference Award will be bestowed upon one of three finalist nominees — Kathy Cass, Randall Doane or Richard Wilson. You can vote online for the candidate you think is most deserving. Find out a little about each of them at the TDSMC website and then follow the Survey Monkey link you'll find there to cast your vote.
Rigs & Rides Magazine will also be sponsoring a "Pride in Your Ride" contest, offering awards in the following categories:
Cleanest Overall Rig
Best Overall Maintenance
Best of Show Working Class
Best of Show Towing Class
Best of Show Dump Class
Grand Champion
Winners will win a trophy, recognition in the winter edition of Rigs and Rides Magazine and prizes from Cobra Electronics.
Registration
Registration for the third annual Truck Driver Social Media Conference costs $99 per person and includes
a Friday night welcome reception
meals and refreshments
truck parking
contest entry
A limited number of rooms have been reserved at a discounted rate at Harrah's so register early. Register at the TDSMC website, where you will also find contact and location information and much more.