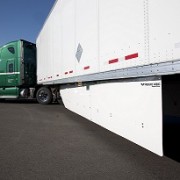 If current trends hold, greenhouse gas emissions are expected to increase by 80 percent by the year 2030, according to a report by the Carbon War Room. Though many environmental efforts focus on consumer behavior, the transportation industry stands to make the most impact to air quality by implementing efficient, environmentally friendly practices. After all, more than 26 million trucks hauled more than 9 billion tons of freight in 2010!
A law introduced in 2012 mandates the use of EOBRs (electronic on board recorders) on each commercial vehicle. These devices are often touted for their contributions to driver safety, but they also improve fuel efficiency by enabling overarching fleet management solutions. For starters, with the help of EOBRs, fleet managers can guide truckers to routes that consume the least amount of fuel—avoiding areas with heavy traffic and an overabundance of hills.
When it comes to making fleets more fuel efficient, though, don't stop with EOBRs. The Carbon War Room report suggests five different physical technologies that fleet managers can introduce to save on fuel use and costs.
1.   Aerodynamic Upgrades
Older trucks will see the most gains here. By adding aerodynamic technologies such as trailer skirts, fleet managers can increase the fuel efficiency of older vehicles by as much as 15 percent. Trailer skirts alone can reduce fuel inefficiencies by 7 percent just by covering the gaps between the front and rear tires on the sides of the truck. Newer trucks, which already have improved aerodynamics, can gain anywhere from 3-11 percent efficiency by increasing aerodynamics. This improvement doesn't necessarily require major investment; some skirt panels cost as little as $300.
2.   Anti-idling devices
Truckers idle for a few different reasons; idling helps to keep the engine block warm, to keep heat flowing to the cab and to keep the power on. An easy (but slightly costly) upgrade option is a direct-fire heater, which can take care of heating the engine block and the cab, thereby reducing 75 percent of the fuel used while idling. Auxiliary power units are about double the price (at minimum) of a direct-fire heater but act as generators that replace all the fuel a truck needs while it's idling. Durability and cost are both issues with these solutions.
3.   Better tires
Better tires offer less rolling resistance—a fancy way to reference the metric for assessing how difficult it is to move a tire. Rolling resistance is responsible for 25 percent of the fuel used to keep a truck in motion. Decreasing this figure simply means choosing better-designed tires. To decrease it to as much as 6 percent, consider a single-tire model instead of the traditional double.
4.   New transmissions
Unless the truckers' driving a fleet need to use routes that are known for extreme weather, managers can consider adding in a 6×2 transmission to replace the 6×4 version. This change can significantly reduces fuel consumption because a 6×2 engine only moves two wheels. This isn't an option for all trucks, but it is an option for many. As a bonus, a 6×2 transmission is often less expensive of the two options and can reduce fuel costs by up to $44,000 over the lifetime of a truck.
5.   Adaptive cruise control
Trucks lose an enormous amount of fuel efficiency just by going a few miles per hour faster than their highway-recommended amount of 55 miles-per-hour. Though it's unsafe for truckers to travel that slowly in some situations, speed is a big issue in fuel efficiency. The best way to govern how fast trucks can go is through adaptive cruise control. This is different from standard cruise control in that it can sense traffic patterns and respond accordingly. This technology helps drivers save fuel while ensuring they keep up with traffic patterns.
Hilary McMahon, director of research at the Carbon War Room, called these upgrades "low-hanging fruit," as reported by Midwest Energy News. These technology solutions are all meant to have great long-term results with just a little effort up-front. Small upgrades like these can go far in creating a cleaner, brighter future for everyone.