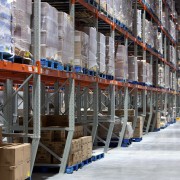 Many companies have a single distribution channel, and in most cases, this is all that is needed. For others, however, it's a good idea to have two or even three ways of delivering the goods. In some cases, a company's needs will change over time as it adapts to an evolving marketplace. If a firm is in flux, its management will need to consider whether it should add or remove channels. Here are some of the variations that may come to mind:
One Distribution Channel
A single distribution channel is good for companies that have simple business models. If, for instance, the company manufactures products at a factory and then delivers them to retail stores for sale, it usually only needs one way of doing it. A fleet of trucks outfitted with fleet management packages can efficiently deliver the goods whether the firm serves one town or the entire country.
Two Distribution Channels
In some cases, it's a good idea to have two distribution channels. This system is a good fit for companies that deliver to both consumers and retailers. Delivering to retailers is often done best by using a fleet of large trucks, but it can be a good idea to let UPS or FedEx handle deliveries to individuals. This is because these companies specialize in delivering to single houses or small businesses. They have the smaller trucks needed to easily navigate residential areas and avoid incurring huge fuel costs in the process.
Three or More Distribution Channels
Large, diversified companies often need at least three distribution channels to serve all of their customers in an efficient and satisfying way. Fleets of semis can move goods between warehouses or to large business customers, small trucks can serve residential clients, and specialized couriers can take care of unique needs like same-day delivery.
Offering same-day delivery is the latest craze for online retailers. This is because it greatly increases the conversion ratio. In areas where Amazon offers 90 minute delivery, it is said that there is a 20 to 25 percent increase in conversions. Surprisingly, not all of these extra customers actually order the 90-minute delivery. Apparently, just seeing that it is available makes people more willing to buy over the Internet.
Does Your Company Need Multiple Distribution Channels?
The complexity of your company has a lot to do with how many distribution channels you need. I think that most firms are fine with only one channel. Whether the channel uses outside delivery firms like the USPS, UPS, or FedEx or chooses to use an in-house fleet, a company that serves only one type of customers usually only needs one way to deliver to them.
On the other hand, if a company's customers have diverse needs, I think it's a good idea to have at least two channels. For example, if most customers need delivery within standard times but some need to have their items delivered the same day or the next, it's a good idea to use two systems to get the job done.
As this shows, there is no one solution for every company. The best results come from examining the needs of the company and its customers and choosing the distribution channels that can best handle these demands.