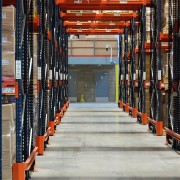 Earlier this month, I was reading through the details of November 2012 research by Intermec and Vanson Bourne about distribution center and warehouse productivity. Within the study, there were a couple of statistics that stood out to me:
Mid-sized warehouses with around 50 workers lose approximately 3,000 hours a year due to workforce inefficiencies;
30 percent of warehouse managers had not conducted a review of their processes in the warehouse in the past year; and
89 percent believed that investing in new technology would allow warehouse managers to recoup lost time and improve productivity.
When we talk to buyers researching technology for their distribution centers, we commonly hear similar desires to invest in new technology to help automate the pick-and-pack process and eliminate errors. But we also preach the importance of relying on strategies that aren't dependent on technology–namely, looking right beneath your nose for quick-fixes that can improve the efficiency of your workforce.
Here are 4 strategies to keep top-of-mind while you are evaluating your distribution center operation and rooting-out inefficient warehouse processes.
#1 Document Changes and Compare Religiously Against Error Rates – Internal picking error rates are commonly used to analyze how a warehouse is operating. However, more information can be gleaned from these error rates if they can be compared against a meticulous log of changes within your warehouse.
Create a day-by-day log of any and all changes related to: training procedures, technology implementation, technology malfunction, new hires, and worker schedules. Comparing error rate changes against this information can help you gain insight into more systematic failures in your operation, and provide insight on how to quickly fix them.
#2 Introduce Accountability Through Processes – The benefits of automation are lost when workers circumvent the system or create work-arounds. All too often, a mistake made at the start of the picking process isn't a big concern for the perpetrator–they know that someone down the line, likely a packer, will fix the problem for them.
Create a workflow within your organization that creates accountability, but also puts an emphasis on the importance of accuracy. For example, create an area for packers to place errant inventory, and ask them to notify pickers of the mistake rather than fixing it themselves. The near-term losses in efficiency will be regained in the long-term with workers that are more attentive to the little things.
#3 Have Leadership Walk the Floor – When senior members of your leadership team are available, ask them to walk the floor of the warehouse to find extraneous activities conducted by your workers. During these floor sweeps, as them to focus on "why" things are being done, rather than "how."
For example, if the packers are commonly sitting around waiting to load materials onto the latest truck, have them try to analyze why this bottleneck is being created. Having an outsider's perspective can help root-out inefficient processes that have become the norm–just because it's the way that things have always been done.
#4 Combine Profit-Sharing and Extended Education/Training – Finally, profit-sharing programs are commonly used in many warehouses to incentive high-quality work. If the company's financials take an unexpectedly positive turn, the floor workers are rewarded accordingly. But to help improve these programs–and to improve your warehouse operation overall–spend some extra time providing training and educating the warehouse staff.
For example, Paul Shrater, COO at e-commerce retailer Minimus, recently pointed to the success of his team's monthly training sessions, which involve every member of his company. In these sessions, employees are educated in the innerworkings of the business, and how one team's actions impact others within the company. "If you show people how their actions will impact their wallets, they listen," says Shrater.
I've written more on this subject over on my SoftwareAdvice.com blog in "5 Strategies to Boost Your Warehouse Workforce's Efficiency." If you'd like more details on these strategies, I'd suggest you check it out. In addition, feel free to reach out to me at michael@softwareadvice.com to discuss more.

Thumbnail image created by Mark Hunter.