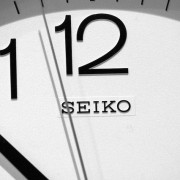 It's that time of year where the pressure is on for everybody (not just big businesses) to use just in time within their supply chain. The concept of just in time believes that excess inventory is a waste. For a parent, this may mean ordering Christmas gifts online and seeking a delivery time less than a week before Christmas in an attempt to avoid any opportunity their kids may have to snoop around the house! On the flip side, businesses are used to their supply chains already being lean and are no stranger to time sensitive material. It's a time for them to really shine. In honor of this holiday season where everything seems to get even leaner, here are some links that can help you learn more about the concept of just-in-time:
UPS Supply Chain Solutions – A Just-In-Time Supply Chain?
Business Week: The Downside of Just-in-Time Inventory
Industry Week – Just In Time — If Supply Chain Management is the Answer, What's the Question?
SCM Review – Can Just-in-Time and Global Sourcing Strategies Co-exist?